Welcome
From January 2021, a modern film orchestra will be set up in the Zurich area. Directed as an association, there should be a diverse group of amateur musicians who enjoy film music (no professional orchestra, but at a good level).
We are currently in the development phase, looking for musicians. The rehearsals take place on Monday evening starting 7:30pm in Dübendorf.
We will only play film music, from old classics to modern interpretations and compositions. In addition to the classical orchestration, there will also be support from modern instruments (synthesizers, effects, electric guitar) if necessary. These are used as sound enrichment.
We will position ourselves as an amateur orchestra and therefore will not pay any fees. There will be a small membership fee of CHF: 20.00 per month.
If you would like to play in the film orchestra, we look forward to hearing from you.

---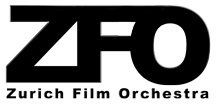 Zurich Film Orchestra ZFO
Film Orchestra Zurich Switzerland