Our start has now definitely been delayed, a date is not yet known. We'll keep you up to date. Of course, we won't just wait around: a blog and several videos are planned.
Due to Corona we will probably start late – date is still open. However, from January 4th we will still be carrying out mini section rehearsals with 4 to 5 people. As a second phase (as soon as allowed) only half of the orchestra would practice in the rehearsal room and our other members could play along at home via live stream.
The ZFO will also have a Covid-19 protection concept. The board has just issued the guidelines and made them available to all members.
The preparations are almost done. There only have a few vacancies among our members, the first musical works are ready for rehearsals and we are looking forward to our first internal meeting in October. We are still looking for the last sponsors for next year.
We need sponsors to start in January. Would you like to support the Zurich Film Orchestra financially? We would be happy to send you our dossier.
We sat down with the "Obere Mühle" and will hold our weekly rehearsals with them in Dübendorf.
Our rehearsals will take place weekly on Monday evening (starting 7:30 p.m.). Where is still open.
Concert master Carolina Mazalesky will lead the ZFO together with conductor Pascal Tsering.
Founding of the association – The Zurich Film Orchestra ZFO – Rehearsals will begin in January 2021.
---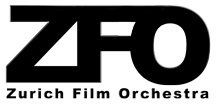 Zurich Film Orchestra ZFO